Bitcoin in Turkey: An Update
Just days ago the Coinmap blog published an article about how the economic turmoil in Turkey was driving Bitcoin adoption as an alternative to the failing Turkish lira. But as is often the case when it comes to crypto, a huge shift has happened in just a few days: President Recep Tayyip Erdoğan has issued a total ban on the use of cryptocurrencies like Bitcoin in Turkey. So strap in for our very first bit of Bitcoin breaking news here on Coinmap: we'll fill you in on this ban and what it means for crypto in Turkey and abroad.
More Erdoğan Interference
As we detailed in our previous post, a significant amount of Turkey's current economic dire straits has been caused by direct interference and growing strongmanism from the country's president. Flailing to find a solution to inflation, unemployment, and debt in the country, President Erdoğan lit on the Turkish central bank, firing three governors in less than two years with each replacement more politically pliable than the last. The most recent of these in late March, described as a "midnight bullying" by opposition figures due to coming in the dead of night and from political motivations, has directly resulted in economic panic in an already struggling country: inflation climbing to 16.19%, well above a 5% target, unemployment remaining high at 13.4%, and the lira losing at least 13% of its value in a matter of days.
This latest economic shock led to a massive spike in Google searches for Bitcoin in Turkey, presumably as interest in crypto as a hedge against inflation and a store of value became more plausible. What has been perhaps more impressive, though, is the quick adoption of crypto for transactions with businesses both large and small—from local tea houses and durum shops to large multinationals like Rolls-Royce, Amazon, and Expedia.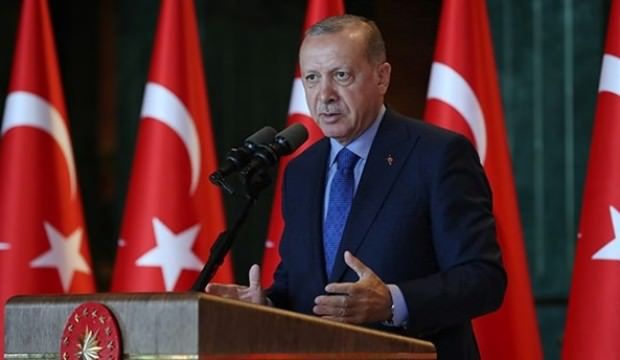 But with President Erdoğan having all but said "la banque c'est moi" and the rapid adoption of an alternative currency entirely outside his control, the previously unregulated status of crypto in Turkey was not destined to last. What was surprising was the speed and totality of the Turkish government's reactionary measures: unannounced and again in the dead of night it was declared that "cryptocurrencies and other such digital assets based on distributed ledger technology could not be used, directly or indirectly, as an instrument of payment." What's more, business models based on the use and issuance of cryptocurrencies are no longer permissible, presumably targeting not just individuals and businesses using crypto for payments but also exchanges facilitating fiat-to-crypto transactions involving the lira.
What the crypto ban means for Turkey & crypto
An assault on the Turkish people
Obviously this is a new story so we don't know the exact fallout that may accompany this ban. However, it's safe to assume that this is not what most would call a good thing for crypto in Turkey. Turkish citizens relying on crypto to stabilize their financial well-being will continute to be vulnerable to inflation, price shocks, and the general downward trend of the Turkish economy. Businesses staying afloat or even thriving thanks to crypto payments will lose a major source of income. Major companies—not just the Rolls-Royces of the world but also global exchanges like Binance—will continue to avoid Turkey as a location for investment and development thanks to continued erratic economic policies. And young, tech-savvy, and entrepreneurial Turks with plenty to contribute to the crypto space will find it hard or impossible to do so at home. So it's inarguable that this crypto ban, ostensibly aimed at repairing the Turkish economy, is instead a direct assault on that same economy and the Turkish people struggling to make do.
A shock to crypto markets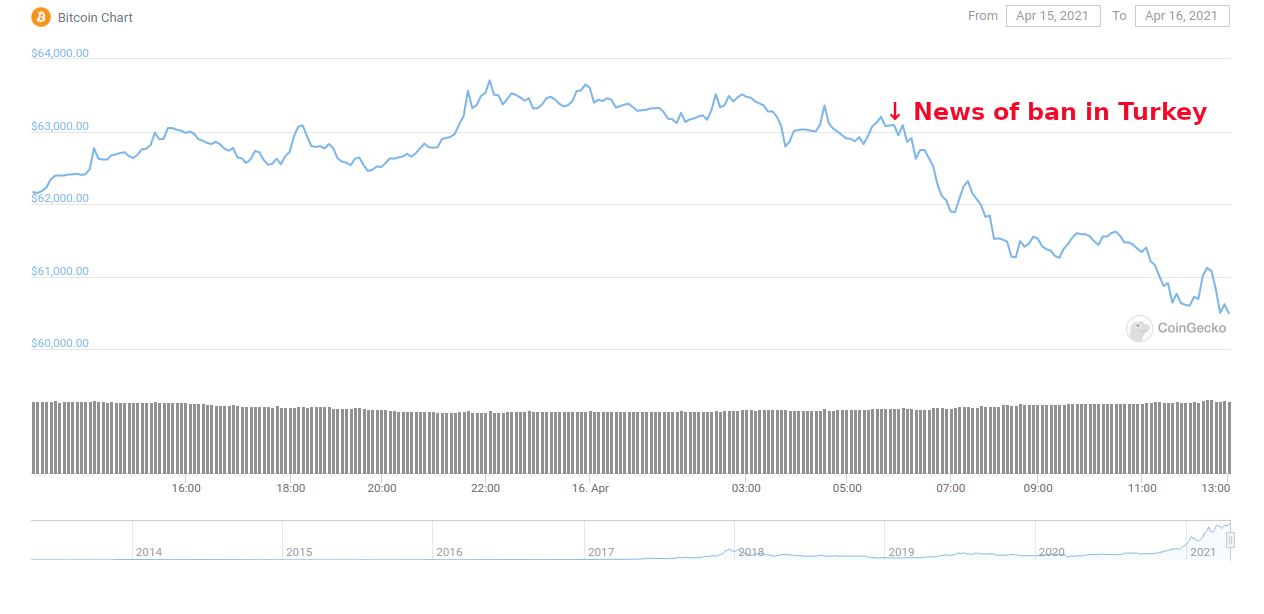 Zooming out to the crypto economy worldwide, news of this ban came with a sharp 3% drop in Bitcoin price during a week that also saw all-time highs. Of course, volatility isn't new to crypto users, but cutting out a country of over 80 million from this booming market has shown the strong role Turkey played as well as the highly interconnected nature of crypto. Unfortunately, borders still undeniably have an effect—usually a detrimental one—on what is and should remain a borderless economy.
A foolish—and perhaps unenforceable—decision
What is also unclear is the enforcement measures that may accompany this ban, and this too is a familiar pattern. As we've examined in other countries with bans or onerous, ever-changing crypto regulations like India and Nigeria, the fact is that enforcing such a ban on a borderless, decentralized economy is practically difficult or impossible. In the best case scenario crypto-savvy Turks will ignore the ban and government forces will realize their attempts have been foolish. In the worst case scenario, this could be an excuse for an increasingly authoritarian country to hassle anyone they suspect of crypto use—almost certainly resulting in abuses of power, corruption and bribery, and perhaps even worse. A medium case could include a spike in regional crypto prices as was seen in the African case, adding an expensive barrier to entry for true believers who want to participate in a crypto economy that may save them from their failing traditional one.
So we can't say for certain that our previous article was what led President Erdoğan to realize that crypto use by the people of Turkey was a way of standing up to his interference and ineptitude. But what we can say is that this ban is nonsensical and regressive. We should all keep a close eye on how crypto users in Turkey respond to see what the long-term effects will be.
Cover photo: courtesy of Canva.
---
If you want to get started with crypto easily using US dollars, euros, or dozens of other world currencies, be sure to check out our sister site Invity.io, where you can buy, exchange, and sell crypto easily and instantly.