Crypto World News Roundup - October 5, 2021
In this installment of our fortnightly roundup series, we're once again bringing you the world's crypto news in one convenient location. This week, we're looking at China giving the boot to the cryptocurrency industry for the upteenth time, Texas' bid to attract crypto miners, Switzerland approving its first crypto assets fund, and more.
China breaks up with crypto again—for realsies, this time
In July, Coinmap extensively explored the state of the cryptocurrency landscape in China. At the time, we dubbed China as the 'inescapable crackdown capital', based largely on the fact that no other country is as frequently mentioned in the crypto news cycle. Sure enough, the last fortnight has been no exception.
Both the mainstream and crypto press have been littered with news that China has banned crypto. As some pundits observed, this type of action in China is not inherently new. Cointelegraph outlined that China has "'banned' or otherwise caused [fear, uncertainty, and doubt]" in the crypto landscape on 19 separate occasions. While the outlet is generous in including individual exchange breaches in this figure, the fact remains that China is often taking some form of action against crypto.
As reported by Reuters, the latest iteration of China's regulatory actions in the crypto space arrived in the form of a decision to issue a "blanket ban" on all cryptocurrency transactions. This decision seemingly intends to close the few remaining loopholes that still allowed for crypto-related activities in China since after its previous ban back in May.
As the Financial Times reported this week, China's actions have placed countries like Singapore and Japan in an advantageous position when it comes to being the leading destination in Asia for crypto services.
Kicked out of China, miners set their sights on Texas
When China outlawed cryptocurrency mining back in May, major mining farms and businesses were left seeking alternative jurisdictions in which they could continue making money. Now, thanks to a crypto-positive sentiment among regulators and cheap access to electricity, the US state of Texas could emerge as a popular destination of choice for businesses.
Forbes reported this week that Texas is poised to be a "world leader in Bitcoin and blockchain", while Bloomberg published an article titled "Why China's Bitcoin Miners Are Moving to Texas".  Both pieces share the sentiment that China's loss could mean Texas' fortune, as currently unhoused crypto mining firms are looking for a stable base of operations.
According to Bloomberg, Texas presents both stability and opportunity in the eyes of several Chinese bitcoin mining companies. The outlet wrote that BIT Mining, which was previously based in the Chinese city of Shenzhen, plans to invest $26 million in building a data center in Texas. In addition, Bitmain—previously based in Beijing—is purportedly expanding its base in the Texan city of Rockdale.
Greg Abbott, the state's governor, is often cited as having a welcoming stance towards the cryptocurrency industry. Under his purview, the Texas Department of Banking issued an industry notice back in June. It effectively gave the greenlight to state-chartered banks that want to provide customers with cryptocurrency custody services—on the condition that the bank is able to manage associated risks and comply with the law.
As Texas attempts to position itself as an attraction option for businesses in the wake of the vacuum created by China, Abbott has twice attended meetings with the Texas Blockchain Council. The organization is slated to host the Texas Blockchain Summit this Friday.
Switzerland gets its first approved crypto assets fund
In contrast to the news out of China, the Swiss Financial Market Supervisory Authority (FINMA) announced the approval of a Swiss fund that is focused on investing in cryptocurrency assets. This marks the first time that a crypto fund has been approved under Swiss law.
FINMA says it placed the fund under a specific category referred to as "other funds for alternative investments." While exciting news for proponents nonetheless, this news did not arrive without certain stipulations. According to FINMA's press release, the fund is only allowed to invest in established cryptocurrencies that have a "sufficiently large" trading volume, and all trades must be made through platforms based in member countries of the Financial Action Task Force.
Iran lets crypto miners get back to doing what they do best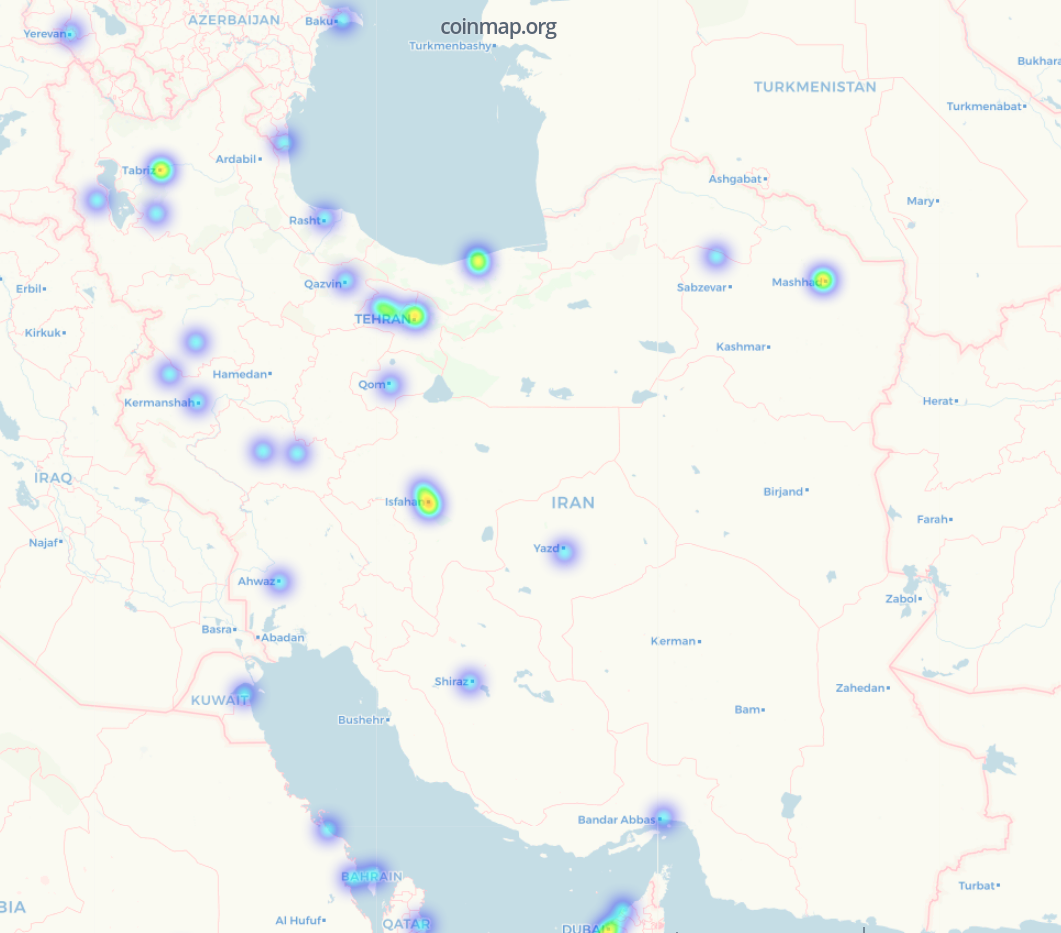 Since May, cryptocurrency miners in Iran have been unable to legally engage in their usual profit-making activities. The reason given for the decision was that the energy needed to mine crypto was increasing the risk of blackouts as a consequence of the strain placed on Iran's power grid.
Now, licensed cryptocurrency miners in Iran have once again been given the go-ahead to mine crypto. At the time of the temporary halt on mining activities, the BBC reported that Iran accounts for an estimated 4.5% of all Bitcoin mining. As a result, these activities being allowed to resume may positively contribute to Bitcoin's hashrate.
---
That's all for this installment, but you can join our newsletter mailing list to have major crypto news from around the world sent directly to your email once every fortnight. Find the free signup at the bottom of Coinmap's home page.