Crypto in the United Arab Emirates: A Hub for Digital Innovation
The United Arab Emirates is often seen as a hub for digital innovation. In contrast to the types of harsh regulatory action taken by other affluent countries in the region, the UAE has presented a mostly relaxed, if not somewhat undefined, stance on crypto. In the past few years, financial authorities in Dubai and Abu Dhabi have been motivated to create regulation that could foster the UAE's status in the crypto scene.
The socioeconomic situation in the UAE: a wealthy nation diversifying its portfolio
The UAE was founded as a federation back in 1971, when six emirates banded together. Between 1971 and 2013, the United Arab Emirates's economy reportedly grew by nearly 231%.
Today, it comfortably stands among the wealthiest counties in the Middle East. While Gulf Arab countries have traditionally relied on the sale of oil and gas, these nations recognize that their reserves cannot be solely relied on if they want to maintain their affluent position.
As explained in a report by the Brookings Institution, oil and gas reserves will deplete in the long term. In the medium term, their value is threatened by improvements to energy storage and efficiency, as well as declining demand for oil and gas in favor of sustainable energy. The research group further reported that Brent crude prices were pushed from $64 per barrel to as low as $23 in April 2020 as a consequence of the ongoing pandemic. As a result of these factors, the UAE has made strides towards economic diversification in an effort to improve the sustainability of its economy.
Areas such as tourism, renewable energy, space travel, and digital innovation are part of the UAE's push towards a more diverse economy. This helps contextualize the use of blockchain technology in the region, as well as the prosperity of crypto trading in some of its free zones. Here, acceptance of crypto does not seem fueled by a rejection of the UAE's national currency. Rather, it appears to be driven by a desire to diversify, innovate, and serve as a leader in future-proof industries.
The Emirates Blockchain Strategy 2021, in particular, is part of the UAE's initiative to adopt new technologies in order to modernize government transactions. In doing so, it expects to save 11 billion UAE dirham (just shy of $3 billion at press time) each year.
The United Arab Emirates' approach to crypto
From the outside looking in, the United Arab Emirates's relationship with cryptocurrencies can be confusing. In 2017, reports indicated that the Central Bank of the United Arab Emirates prohibited the use of "virtual currencies". However, the former governor of the UAE Central Bank later clarified that they were not outlawing cryptocurrencies like Bitcoin.

In 2018, the UAE Central Bank's governor warned against cryptocurrencies, emphasizing that "we have been very explicit that this is not approved by the Central Bank." This position was somewhat reaffirmed in late 2020, when the authority stated that it had not legalized cryptocurrencies as legal tender amid its Stored Value Facilities Regulation.
In spite of these statements, the United Arab Emirates—particularly Dubai and Abu Dhabi—has built a reputation as a hub for blockchain technology and cryptocurrency innovation. Importantly, Dubai and Abu Dhabi are each home to financial free zones that operate as entirely separate jurisdictions with civil and commercial laws that are separate from the remainder of the UAE. The Dubai International Financial Centre (DIFC) and Abu Dhabi Global Market (ADGM) are often the leading contributors to discourse surrounding the UAE's positive relationship with cryptocurrencies, as they are both home to cryptocurrency trading and blockchain projects.
Further, regulation in the United Arab Emirates is constantly evolving. In late 2020, the UAE's Securities and Commodities Authority (SCA) published a regulatory framework for licensing crypto assets. Meanwhile, the Abu Dhabi Global Market (ADGM) established a landmark crypto framework back in 2018. According to the ADGM'S regulatory authority, this is part of the free zone's "ongoing commitment to bolster the economic diversification of Abu Dhabi through innovation and sustainable initiatives."
In addition, the UAE has a notable history with exploring the use of the underlying distributed ledger technology behind cryptocurrencies to explore the merits of creating digital currencies that would be controlled by the nation's financial authorities. Last year, the UAE concluded its pilot project to create a cross-border digital currency with Saudi Arabia. According to the findings of the report, "Distributed Ledger Technology (DLT) can provide central banks with the ability to reimagine both domestic and cross-border payment systems in new ways." Now, the UAE is engaged in a joint initiative with the central banks of Hong Kong, Thailand, and China to explore the use of central bank digital currencies for regional payments.
The United Arab Emirates' interest in crypto
When it comes to interest and curiosity around cryptocurrencies in the UAE, there are indications that the public is curious about Bitcoin and the broader topic of cryptocurrencies as well.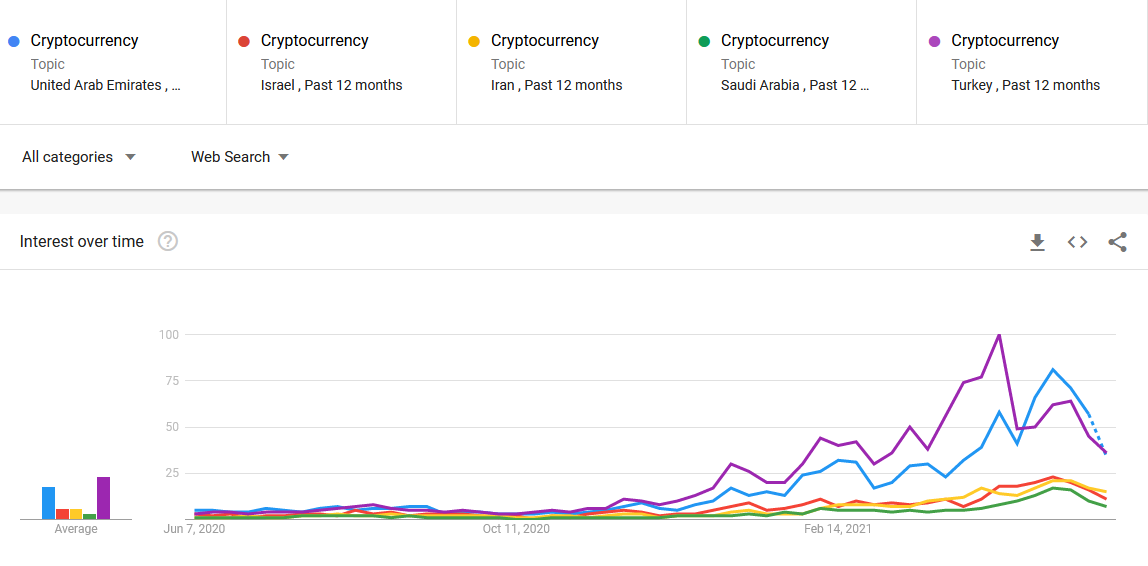 Since Google is the most popular search engine used in the United Arab Emirates, we used Google Trends to compare search interest in both "bitcoin" and the "cryptocurrency" search topic that encompasses related terms in different languages.
Over the last 12 months, search interest in the topic of cryptocurrencies drastically and consistently outperformed neighboring countries in the Middle East like Israel, Iran, and Saudi Arabia. Notably, Turkey had more search activity on this topic than the UAE up until the start of May, following Turkey's crackdown on crypto.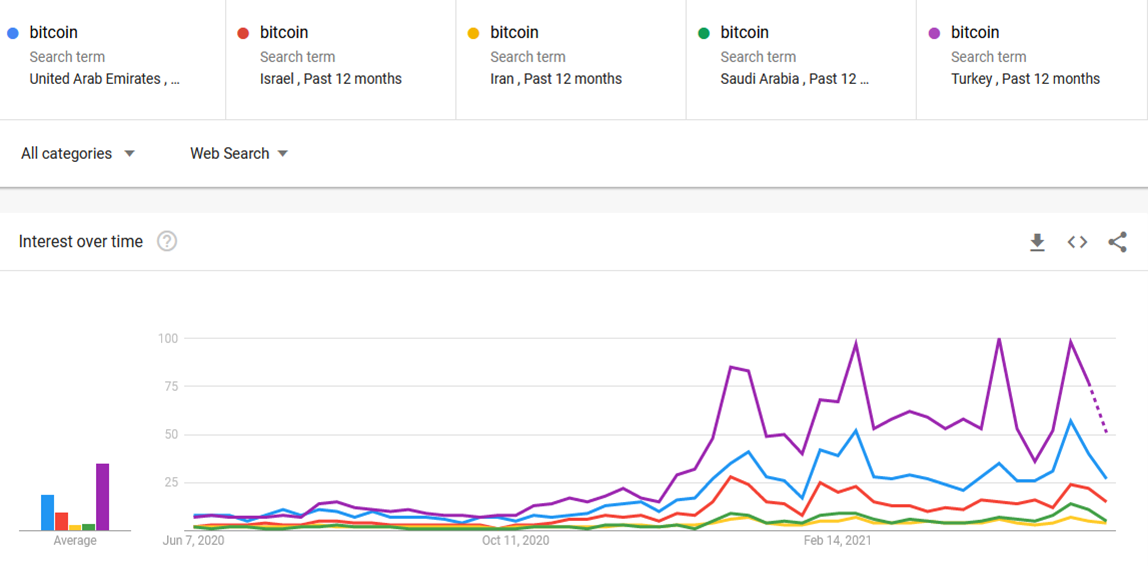 When it comes to searches for "bitcoin", the UAE still outperformed most of its neighboring regions but was dwarfed by Google searches for bitcoin in Turkey.
Further, according to a 2021 survey sponsored by Holborn Assets, one in four UAE residents out of 1,000+ respondents view crypto as "exciting investment opportunities". A further 45% said they need more education about cryptocurrencies before deciding to invest.
As shown on Coinmap's ATM and merchant map, there is a cluster of businesses that deal in cryptocurrencies in both Dubai and Abu Dhabi.
The United Arab Emirates in crypto headlines
Most headlines related to cryptocurrency in the UAE, and Abu Dhabi and Dubai in particular, are positive in nature. Outlets like Cointelegraph previously framed the region as "one of the most progressive crypto countries in the world."
Back in February 2021, Coindesk and Gulf News reported that Dubai's KIKLABB free zone became the first government entity in the UAE to accept Bitcoin, Ethereum, and Tether as forms of payment.
In May 2021, outlets reported that the Dubai Airport Free Zone Authority (DAFZA) and the UAE's Securities and Commodities Authority (SCA) reached an agreement that allows businesses to obtain a license to trade cryptocurrencies in the free zone.
Soon after, reports stated that DMCC, an entity established by the Government of Dubai to provide the infrastructure for trading global commodities, became the second Dubai free zone to target the crypto sector. As part of a move it claims will bolster a "business-friendly environment for crypto firms and [cement] the emirate's reputation as a global technology leader," the DMCC established a hub for crypto and blockchain innovation.  
"Crypto and blockchain technologies have an enormous potential to transform global trade and supply chains,"  said DMCC Executive Chairman and Chief Executive Officer, Ahmed Bin Sulayem, in a press release. "With a progressive and supportive regulatory environment, a strong pool of industry talent, and an ecosystem that provides access to capital, resources and opportunities to crypto firms, the DMCC Crypto Centre is perfectly placed to support crypto businesses and advance global trade."
In more controversial territory, an altcoin called DubaiCoin has recently been making rounds in both the crypto and mainstream press following its drastic price hike. As The Independent reported, the price of DubaiCoin climbed more than 1,000 percent after claiming to be Dubai's official digital currency. The Government of Dubai Media Office rebuked this claim on Twitter, emphasizing that Dubai "does not have an official cryptocurrency" and called the fraudulent claim an "elaborate phishing scam."
The future of crypto in the UAE
As in most countries, the popularity of cryptocurrencies in the region will largely be driven by their necessity, accessibility, perception as opportunities for investment, and the regulatory frameworks that surround them.
Despite little to suggest that cryptocurrencies like Bitcoin are on the verge of widely being spent and accepted as currency in Abu Dhabi, Dubai, or the broader UAE, both consumers and regulatory bodies are expressing interest in cryptocurrencies and their underlying technology.
For consumers, interest and curiosity around crypto could potentially inspire citizens to look to popular digital assets as an investment opportunity. At the same time, forward-thinking entities in Dubai and Abu Dhabi are attempting to support crypto businesses.
One of the most important signifiers of the future of the cryptocurrency industry in the United Arab Emirates is the Dubai Financial Services Authority's (DFSA) ongoing attempt to create legal guidelines for cryptocurrencies. In late March of this year, the DFSA requested that members of the public provide feedback about its proposed regulation of security tokens.

As DFSA stated in a press release: "Our proposals include appropriate safeguards to tackle investor protection needs and misconduct risks, whilst also addressing market integrity, financial stability and, crucially, money laundering and terrorism financing threats in the direct access environment."
Later in 2021, the regulatory authority is slated to issue proposals for cryptocurrencies that do not fall under the security token umbrella—such as exchange and utility tokens. If handled correctly, this regulation could further entice crypto businesses to operate in Dubai and advance the UAE's overall mission to establish itself as a leader in the industries of tomorrow.
---
If you want to get started with crypto easily using UAE dirham, US dollars, or dozens of other world currencies, be sure to check out our sister site Invity.io, where you can buy, exchange, and sell crypto easily and instantly.